Crosshatch Stoneware Latte Mug
A great day starts with a great cup of coffee (or tea!). This handcrafted stone mug takes on its own signature look with a cozy, organic texture.
Color: Sterling Silver
Measurements: 

18 fl. Oz. | 6.25″ W x 5″ L x 2.75″ H

Handcrafted in Vietnam
Women-owned artisan
Care Instructions: Dishwasher & microwave safe.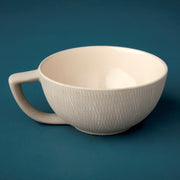 Crosshatch Stoneware Latte Mug