If you're looking to add an eclectic flair to your space, the Bedouin style floor seating is a great place to start. In true Bedouing fashion, the Bidu floor seating set adds a comfortable spot for lounging, reading and enjoying a cup of tea.
Hand crafted in Turkey, the cushion covers are intricately designed and artfully crafted. 
Included:
1 floor seating couch 10*70*190 cm – 74.80 in x 27.5 in
2 backrest pillows 10*45*90 cm – 17.7 in x 35.4 in
1 armrest pillow 47*25*25 cm – 18.5 in x 9.85 in x 9.85 in
Does not include foam as inserts. You can purchase foam to size from your local craft store.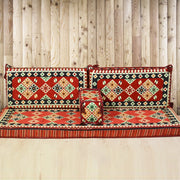 Bidu Floor Seating