Hedi Turkish Coffee Cezve
Whether you've mastered the art of Turkish coffee or you're ready to give it a try, this coffee pot is the perfect addition to your kitchen. The generous size makes it easy to brew a wonderfully aromatic cup of Turkish coffee. This item is handmade and each piece is unique. Slight differences and imperfections should be expected and admired.
Stovetop safe. Do not place the wooden handle directly over the flame to prevent the wood from darkening. 
Approx. 4.5 inches tall by 4.5 inches wide
Makes 5 cups

Wooden handle
100% copper
Handmade
Tin plated
Made in Turkey
Hand wash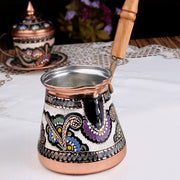 Hedi Turkish Coffee Cezve